History of the Italian School of Endosteal implantology. The immediate loading endosteal implantology traces its forgotten origins from ancient times, from the first attempts to replace lost teeth with pieces of ivory, mother of pearl or gold. But we can say that the modern era of immediate loading implantology started in Italy, at the end of the fifties, when an obscure dentist, very interested in that problem, desperately tried to remedy the impressive number of failures and limitations affecting the most famous implants of those times. Our unknown inventor, destined to leave his mark on a period and on the whole world of odontoiatrics up to the present day, and to unleash deep and contrasting opinions, had graduated late, after returning from detention in second world war prison camps. He immediately developed a passion for implantology, which had many issues and was strongly opposed by universities, that were limited to the implants apposed to the bone surface, if any. Before his passion for implants, our inventor had a passion for mechanics, so he understood immediately the weak points of most implants used at that time: the Cherchève, Perron Andrés, Muratori and Linkow screws. The materials used were inadequate, the morphology with minimal threads and hollow bodies did not allow adequate bone support. These implants were forced to support immediate loading without having the features to provide it.

At that time there was a need for an implant especially designed to support the functional load during the osteoclastic phase and the healing of the bone, by remaining strongly anchored to the bone in spite of its remodelling. This was achieved by applying a biomechanical concept: the powerful mechanical lock guaranteed by large threads, with a large pitch, and the large continuous supporting surface. That young doctor introduced a design specifically conceived for immediate loading, to overcome the previous design shortcomings. Also, he was the first to utilise titanium in implantology,to overcome the issues connected with inadequate materials. He was the first to realise the osteointegration event, about two years before Branemark. He left abundant biological space around his implants, a few decades before this concept was formalised, offering a simple solution to periimplantar bone resorption. He was the first to introduce surgical guides (that he abandoned quite soon, because of their limitations during insertion). Also, he published surprising case studies: 187 patients treated, 422 implants inserted, 9 failures, of which 3 were before the prosthesis installation, 6 after. There were absolutely exceptional results for those times.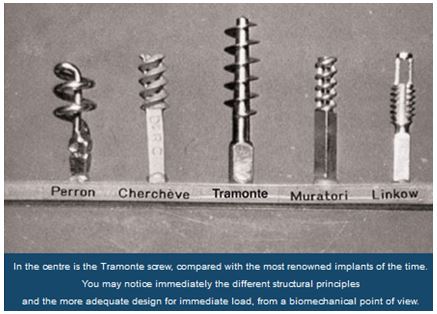 That young doctor was Italian and he revolutionised immediate loading implantology in just a few years: from 1959 to 1963. His name was Stefano Melchiade Tramonte. Some decades later his extraordinary ideas would be confirmed in the James and Lemmons studies. A multitude of variants were derived from his implant; the most deservedly well known is Garbaccio's bicortical screw. Dino Garbaccio understood that cortical supports are more stable and reliable than the medullar ones, and theorised bicorticalism, by creating his own line of implants for his purposes. In practice, bicorticalism has shown to be a very valid help for immediate loading, and today is an integral part of the Italian implantological protocol. In 1972 a monumental histological work by Ugo Pasqualini was published, where it was proved, by reproducing 2400 sections, that the mucosal tissue around the implant emergence of three Tramonte screws and a Linkov blade was able to accommodate the epithelial seal without any sign of inflammation, thus ending the long arguments about an ominous permanence of seepage between internal medium and external space, and anticipating the subsequent acquisitions of an epithelial hemidesmosomial seal. This was, for Italian implantology, the triumph that had its apogee with the introduction of the Mondani's intraoral welder. Pier Luigi Mondani elegantly solved the only weak remaining point, which made immediate loading a thing for few selected experts: the postsurgical splinting of implants. Before Mondani gave us his intraoral welder, the splinting manoeuvres were difficult and not totally reliable, as well as compromising good hygiene at implant sites. The lack of a stable splint, later achieved by welding a titanium bar directly to the implants, forced the operator to be aware of a large number of tricks of difficult dissemination. The splinting by welded bar is nowadays a very important component of the immediate loading protocol according to the Italian school, and the last stroke of genius of the process. It made Italian immediate loading implantology completely predictable, repeatable and with possibilities of intervention far superior to the ones of deferred load implantology.
During the XII National Congress, held in Turin on February 13th 2010,
which had the endorsement as well as the University of Turin also from the Societè Francaise d' Histoire de l'Art Dentaire and Sociedad Espanola de Historia de la Odontology, Dr. Marco Pasqualini presented the historical documents that prove unequivocally that the first clinical use of titanium in implant history is not to be attributed to Per-Ingvar Brånemark, but to Stefano M. Tramonte.